ZALORA is a cool, fun and young brand and it translates into our working culture. If you step into a ZALORA office you can immediately feel the energy of young dreamers and blue-sky thinkers all working towards changing how people shop fashion in this part of the world.
In ZALORA, it's the people that makes our company tick. We hire people who are smart and creative, driven by integrity and with a passion to excel. We are an open and flat organization where everyone's opinion matter.
We are a mix of experts in fashion, logistics, data analytics , marketing, and design, guided by business consultants and tech geniuses.
We come from all walks of life, representing the diversity of ideas that sit within the ZALORA team.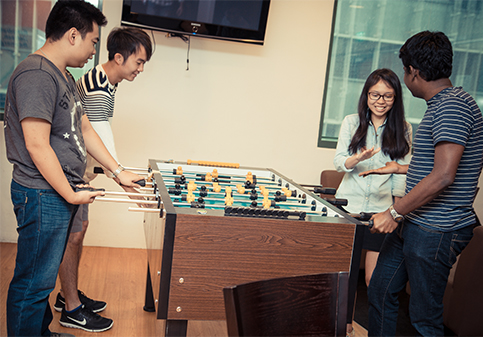 We are collaborative as a group and we recognize that it is through our shared expertise that we get to propel ZALORA into becoming a household name for online fashion shopping. Our projects are always team-driven - encouraging everyone to contribute through open conversations and imaginative brainstorming sessions, in the end everyone contributes to the success of ZALORA.
ZALORA supports the growth of every employee, enabling them to become better versions of themselves. Each one is given ownership of tasks and a responsibility in helping build a brand.
We are a company of talented individuals galvanized by shared goals and a vision to make ZALORA the fashion online authority in Asia.
WE ARE…

Innovative thinkers, passionate about making the most desirable fashion accessible to everyone in Asia.


WE ASPIRE…

To become a trusted brand our customers love, a respected partner to the fashion world, and a leading employer in Asia.


WE PRACTICE…

Integrity

Teamwork

Ownership

Excellence


WE STRIVE…

To Be Asia's #1 Online Fashion Destination.




Learn more
about Business Intelligence
Business Intelligence
ZALORA Business Intelligence (BI) team works on gathering, storing, analyzing and providing access to data as well as providing high-level reports, dashboards and monitoring KPIs to help ZALORA make better decisions. The main goal of BI is to provide easy and meaningful interpretation of raw data and hence bridge the gap between the business and data (technology).
"ZALORA is a data-driven company"
ZALORA has enormous amount of data from multiple sources such as transactions, customers, operations, website traffic, customer service, supply-chain etc. All this data is just like logs (read: garbage) until it is cleaned, structured and analyzed properly. BI handles this large amount of unstructured and structured data to help identify, develop and/or create new strategic business opportunities. Common functions of business intelligence are reporting, online analytical processing, analytics, data mining, business performance management, benchmarking, predictive analytics and prescriptive analytics.
Along with this we also work for Payments and are responsible for getting new payment methods on ZALORA website, support payment channel innovations and optimization, payment channel security and revenue protection across all ventures in ZALORA.
See all job listings