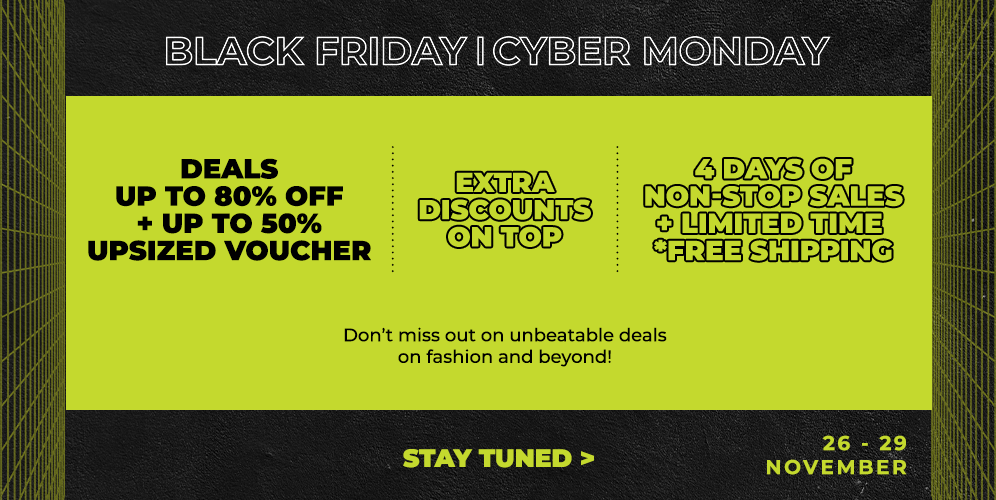 ENJOY BLACK FRIDAY SALES AT ZALORA
If you never knew what Black Friday is all about, the black fry is the day following Thanksgiving Day in the US where all fashion brands are promoting kick off prices in their products. For only a day, all fashion brands will be offering major discount deals and knock off prices to attract everyone's attention to shop with them on the Black Friday sales. The promotional big event is on for 24 hours the whole entire day to give opportunities for their customers to enjoy shopping the best Black Friday deals from their favorite brands. ZALORA known for being the leading fashion online platform is Asia, we are definitely not missing a chance to provide you with amazing jaw dropping deals on apparels, shoes, accessories, and more on Black Friday 2023. Don't ever miss the crazy holiday sale right here at ZALORA!
All Kinds of Black Friday Special Offers and Markdowns are Waiting for You
All the fashion lovers out there will start going crazy to chase the shopping deals offered by the participating brands in ZALORA. You will never get a special shopping chance like this often especially if you are the type who can never resist your love in fashion. Instead of going out and through crowds in shopping malls during this amazing shopping day, why not enjoy our Black Friday 2023 sales in the fun by only online shopping right here at ZALORA Hong Kong. You can get all the best Black Friday deals 2023 and even purchase your Christmas gift earlier right at your fingertips in the comfort of your home without ever going through the fuss of pushing through huge crowds. With just a click of a button, you can snatch away low price fashion items in a matter of minutes. What are you still waiting for? Release your shopping spree and join our ZALORA Black Friday Sales now!