FIT VISUALISER BY VIRTUSIZE
What is Fit Visualiser?
Fit Visualiser is a virtual fitting solution aimed to help you find the perfect size and fit when shopping online at ZALORA!
How does it work?
Fit Visualiser lets you compare the measurements of the garment you want to buy with the measurements of the garment you have at home. This is done by overlaying graphic silhouettes of the two.
Getting the right size while shopping on ZALORA is a breeze now with Fit Visualiser! Here's how you use our latest measuring tool -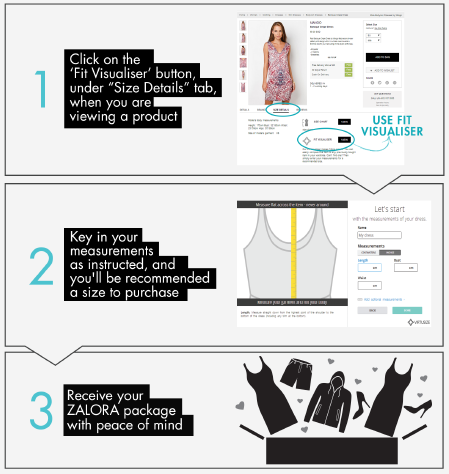 I don't have a measuring tape. How else can I use Fit Visualiser on ZALORA?
1. Browse a garment you already own from ZALORA. Click on the "Size Details" tab on the product page and click on the "Fit Visualiser" button.
2. Fit Visualiser's window pops up. Click on the "I OWN IT" button on the bottom left hand corner to add to your Fit Visualiser wardrobe.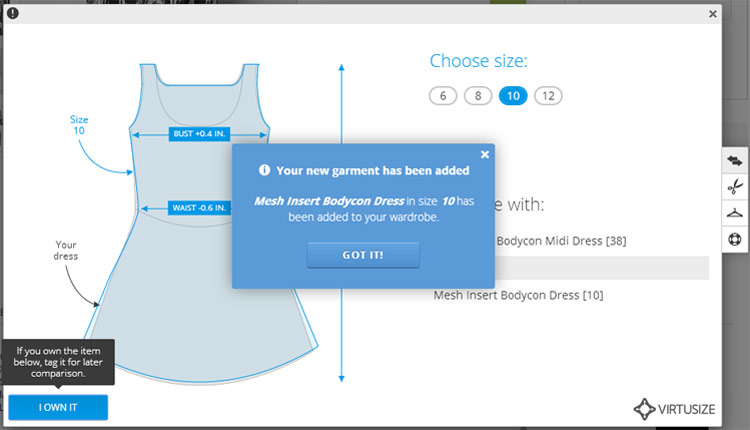 3. The garment now is a reference item in your Fit Visualiser wardrobe. Now you could browse other garments installed with Fit Visualiser and see how they compare with the fit and size of your reference item.
What is the difference between the blue and the grey silhouettes shown on the Fit Visualiser pop up window?
The grey silhouette is your garment and the blue silhouette is the garment you are curious about. You can try and gauge the fit of different sizes by flipping between the size-buttons in the top right corner.
How do I know which size to choose?
You can compare how different sizes relate to your reference garment by clicking the size options in the top right corner and then choose the size that matches your fit preferences best.
Does a difference of one inch/cm mean that the garment won't fit me?
Probably not. In most cases, one inch is insignificant. But some measurements are more sensitive than others. For example, a difference of one inch on a sleeve or an inseam would probably affect the fit, while elsewhere it wouldn't be as noticeable.
Why does my garment look so strange?
If your garment looks strange, you may have entered incorrect measurements. Make sure that you have not measured your body, but measured a garment laid flat. Also, double-check that sleeve measurements start from the back of the collar.
Why does my garment look so large/small?
Unexpected size variations can result from comparisons of garments that are made of different fabric types. For instance, if one garment is made with stretch fabric and the other isn't, they'll look very different next to each other.
We're working on getting as many clothing items installed with Fit Visualiser as possible! Should you have any questions regarding the use of the measuring tool, please feel free to get in touch with our friendly Customer Service team at www.zalora.com.hk/contact/, or drop us a call at +852 3999 4200, 9am – 6pm, Monday to Saturday.
SIZE GUIDE
How do I know what size to buy?
To assist you in choosing the right size, we provide you with Brand specific size charts that can be found on our product pages. We understand that different brands and suppliers adopt different sizing systems and measurements, which is why we try our best to provide you customized size charts according to the brand you're browsing.
Here's how:
STEP 1
Choose your size according to your preferred size conversion charts.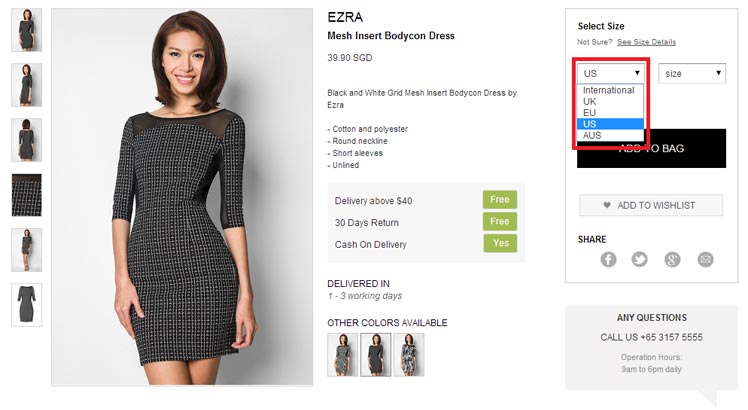 STEP 2
Do check out our brand specific size chart for more information! You could see the size chart, housed under Size Details.

STEP 3
We would highly recommend for you to refer to the product-specific size measurements if available due to the differences in product silhouettes.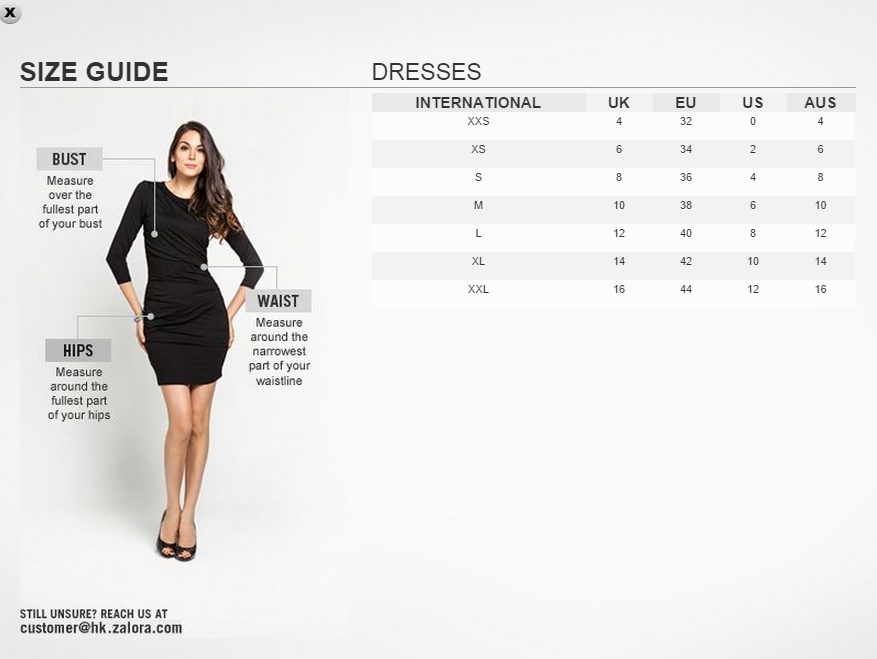 STEP 4
You could also refer to the Fit Visualiser tool, found under the Size Details tab, which would help to suggest a suitable size to purchase based on your measurements.

STEP 5
Still not too sure which size to get? You can also check out the clothing's measurements for the different sizes under Size Details tab.

For certain clothing items that typically come in One Size, we have provided full measurements in the Product Description sections of their product pages, alongside our model measurements. These should help give you a pretty good gauge of their size and fit.
Still unsure? Please feel free to call our friendly customer service agents at +852 3999 4200 or drop us an email at www.zalora.com.hk/contact/