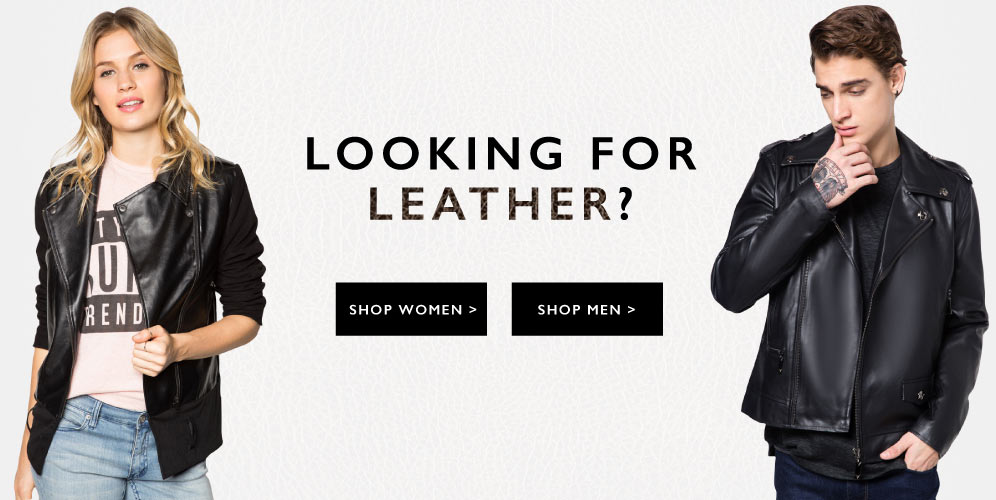 LEATHER LOOKS TO LOVE
Throughout history, this fabric has been incorporated into various kinds of clothing and accessories and has become an especially wearable yet fashionable trend in today's ever-changing world of fashion. Since its introduction into the fashion industry, leather has been a hot topic on the runways and on the streets in almost every season, and has become a staple in every fashionista's closet. Gloves, sandals, boots and belts work just as well when made from other materials, but looks so much more chic when they are made from leather, and are a definite investment for years to come.
SHOP LEATHER CLOTHING AND ACCESSORIES
Bags that come in classic black or brown leather, with gold or silver accents, add a cool and luxurious look to any outfit, like the popular MCM backpacks and the iconic Chanel handbags for women. For more styling tips on how to wear leather, for men, channel the trademark sleek style of James Dean in a black leather jacket and blue jeans. And for the ladies, opt for a white flowy tunic and pair with faux leather leggings and accessorise with bracelets to pull the look of a rock star. Or keep your love for leather minimal with accessories such as wallets or watches with a leather strap.
Explore classic fashion options for men and women that has endured the test of time, buy leather clothing and accessories online in Hong Kong at the best price today. Here at ZALORA HK, our excellent return policies together with cash on delivery as one of the many modes of payment will ensure a stress-free and enjoyable online shopping experience. Shop now at one of Hong Kong's leading online fashion store.