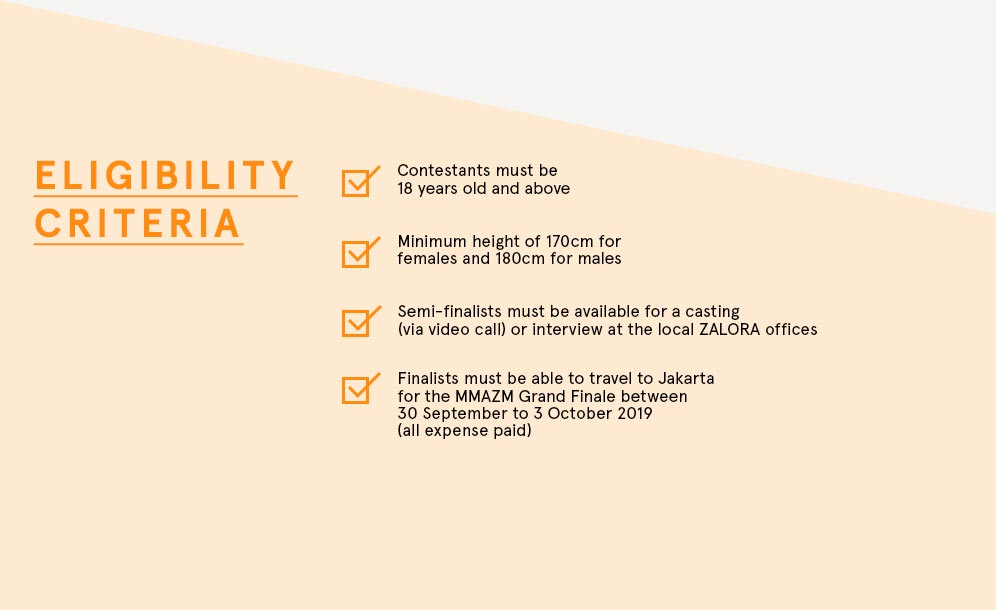 ZALORA Hong Kong Make Me A ZALORA Model Competition Cycle 4
【Make Me A ZALORA Model】Ever wonder what it would be like to become a supermodel? Then you must not miss it! The fourth cycle of Make Me A ZALORA Model competition application will start on August 2, 2019. If you are confused about your modeling career; if you want to step out of your comfort zone and look for more opportunities and challenges; if you love to express yourself and hope to reach out to the wider world, then you are the one that we are waiting for! Don't hesitate to sign up as soon as possible before the deadline August 30, 2019 to seize every opportunity! Chance favors the prepared mind, just grab the change to become the new face of ZALORA!
3 Steps to Join
Simply post your best selfies or OOTDs on Instagram with the hashtag #MMAZMCycle4 and tag @ZALORAHK. Then, just sit back and relax! The semi-finalists will be announced on a weekly basis! Just remember to set your profile as public!
Amazing Prizes for the Winner
If you are lucky enough to be the winner, you will not only able to enjoy a year's supply of clothing from ZALORA, but also a modelling contract from the Upfront Models in Singapore and receive a three-month contract with ZALORA as the 'Face of ZALORA' based in Kuala Lumpur, Malaysia!Before sending out the application, just make sure you are 18 years old or above. Both female and male are welcomed to join, for female minimum height should be 170cm and males for 180cm. Semi-finalists must be available for a casting via video call or interview ar the local ZALORA office. Finalists must be able to travel to Jakarta for the Make Me A ZALORA Model (MMAZM) Grand Finale between 30 September to 4 October 2019 and ZALORA will be responsible for all expenses.
Take the Chance to Become Our New Face
What an exciting opportunity!ZALORA provides you a platform to express yourself and an opportunity to become a professional model!Don't underestimate yourself, for everyone has unlimited potential!Don't hesitate to join the competition and become the Asia's Next Top Model!