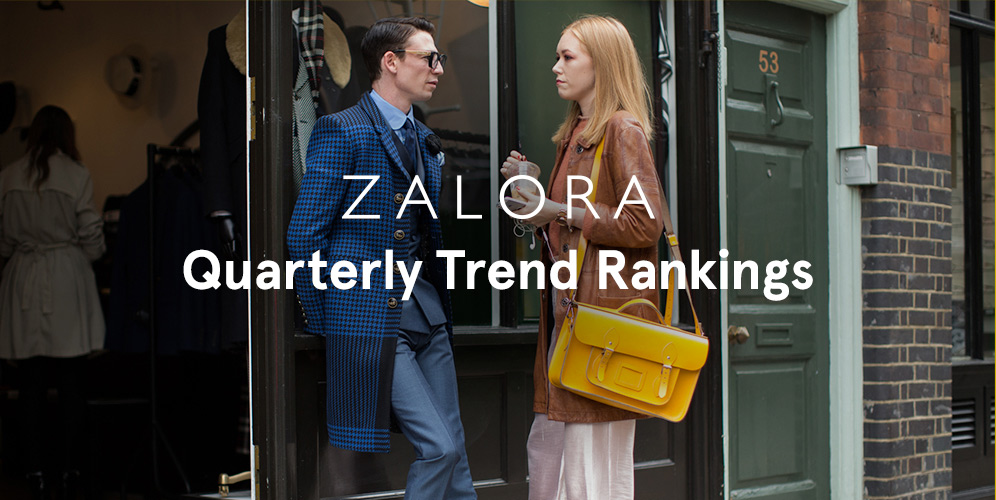 As we enter the first quarter of the year, it is time to take a look at the popular trends of 2017. In addition to the past year's popular streetwear, a big brand is launching a line of exclusive fashion products. For the fashionista, there is no reason to be on the coattail of fashion and we are here to help you with that. So do not miss our 2017 first quarter trend report where we show you the latest spring fashion trend and the trends ahead.
ZALORA HK brings to you the latest collection of Spring's fashion. From men and women apparel to beauty products, explore the wide range of fashion and be fashionably aligned with the latest trends.
2017 Quarter 03

The women's fashion are seen swaying for a more relaxed appeal this quarter. From shirt dresses to cross strap ballerinas, it is more about comfort with style.
Essential Fit & Flare Dress
Love Cold Shoulder Ruffle Top
Cross Strap Ballerinas
Love Lace insert Shirt Dress
Pleat Detail Sleeveless Dress
READ MORE ON THREAD >
2017 Quarter 02

Women are loving the sexy ensembles that exudes sophistication and classic elegance. Going for V-necks, satin heels to laces, hitting the streets with confidence and never worry looking out of style.
Cross Strap Ballerinas
Love Lace insert Fit and Flare Dress
Ankle Strap Ballerinas With Metal Trimmings
Collection Wrapped Dress
Flat Sandals
READ MORE ON THREAD >
2017 Quarter 01

Fashion
As we approach the spring of 2017, are you ready to update your wardrobe with the latest trends? If you want to know the latest fashion trends and designs, be sure to check out our bestseller list.
ZALORA 一字領長袖上衣
ZALORA 飾帶涼鞋
ZALORA 綁帶運動鞋
Footspot ART ROCK休閒鞋
Mango 莫代爾棉T恤
READ MORE ON THREAD >
Beauty
Everyone wants to look their best all the time. Even if you are blessed with flawless skin and natural beauty, make up, skin care and other beauty maintenance products would still form an integral part of your beauty regime. This is because the air is filled with pollutants that will be absorbed by our skin which will inadvertently lead to skin problems that can range from skin dryness to blemishes to eczema. Beauty products are designed to make the skin look perfect with ingredients that can treat and prevent a variety of skin problems. Read on to find out which 5 beauty products made it to our bestselling list this quarter.
Medicox France MF100 美人儀
Kailijumei Super Combo Lipstick 4色裝
Sigma® F35 尖頭打亮掃
PONY x Memebox SHINE EASY GLAM 3 #03 粉橙綻放
MYTHSCEUTICALS 24K黃金美顏棒
READ MORE ON THREAD >
2017 Quarter 03

Going towards that masculine suave, men are seen walking down the streets looking simple yet trendy from head-to-toe.
Contrast Trims Cotton Tee
Basic Faux Leather Moccasins
RFaux Leather Double Strap Sandals
Faux Leather High Top Sneakers
NT-Relaxed Linen Trousers
READ MORE ON THREAD >
2017 Quarter 02

This quarter, the men's fashion trend are hitting towards a more modern yet simple styles playing with back-to-basic looks with an edgy twist.
Faux Leather High Top Sneakers
Faux Leather Driving Moccasins
Tee With Pocket Sleeves
Colour Panels Tee
Basic Faux Leather Business Shoes
READ MORE ON THREAD >
2017 Quarter 01

Fashion
The ever changing nature of fashion sees a particular product being exceptionally popular with each season. For those who want their fingers on the pulse of fashion's latest trends, you have got to check out our men's fashion bestselling list. Our editorial team has specially curated a list of the latest men fashion trends so you don't have to worry about being on the coattails of fashion.
ITEMMS 斜紋華達呢外套
Timberland Earthkeepers®皮靴
Rocklander 西裝皮鞋
ITEMMS WCA外套
Angle Path 美式寬鬆休閒褲
READ MORE ON THREAD >