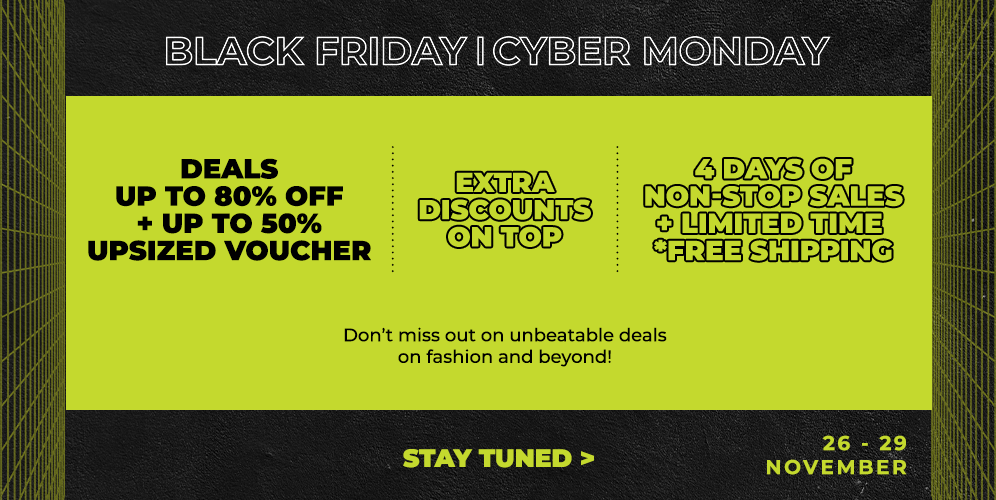 CYBER MONDAY – THE BEST BARGAINS ONLINE
Similar to how Black Friday got its origins from providing shoppers with getting the best deals at the beginning of the Christmas shopping season, this other special shopping day also serves to deliver deals on the Monday after the Thanksgiving holiday in the United States. Still confused between Black Friday and Cyber Monday? Apart from the obvious differences in the days, the latter day is, as its name suggests, known for dishing out special promotions and offers online for cyber shoppers. Plus, with the increasing number of people shopping on their computer or on-the-go from their mobile devices, this day was just waiting to be created to cater to that! Since its debut on 28th November 2005, it has been dubbed as one of the biggest online shopping days of the year and quickly became and international campaign used by online retailers all over the world. So now you too can get in on this special cyber shopping holiday with ZALORA HK!
WHERE DEALS AND DISCOUNTS ABOUND
Though Cyber Monday has not been around for as long as Black Friday, it has wasted no time in becoming one of the fastest growing shopping events of the year. Regardless of whether you need new clothes for Christmas or the New Year, the insane amounts of discounts that come with this day will make online shopping all the more irresistible. So why not take this chance to try out some fashion trends that you have never tried before or just get that long overdue wardrobe overhaul? You could even share the joy of shopping with a couple of your best friends with such incredible bargains. From jewelry, clothing, shoes, bags, skirts, tops, dresses, bottoms, watches, accessories, it is now time to get all that you want from your list of items that you have been eyeing for since forever! There is no need for you to camp outside a store, just get ready next to your laptop or mobile phone and let your fingers do all the exercising.
SHOP CYBER MONDAY ONLINE IN HONG KONG
Don't be mistaken and label this as "Black Monday", Cyber Monday was built solely around the idea that shoppers can still get their hands on highly discounted items conveniently in just a matter of clicks. With such amazing price markdowns, this is definitely an online shopping experience that is not to be missed. You can shop to your heart's desire and still be one of the first to reach the fashion finish line! Here at ZALORA, one of Hong Kong's leading online store, get access to a daily deal of the day or special codes of the week when you sign up for our newsletter. Buy everything that you want online in Hong Kong during Cyber Monday! With the many payment modes (credit cards, PayPal, cash on delivery), free delivery on orders above HKD$200, and top-notch policies on returns will ensure an enjoyable online shopping experience.